Masters of Starlight
By David Fahey, Linda Rich,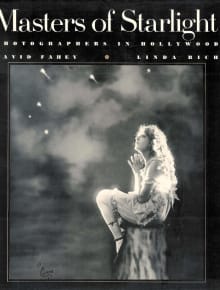 Recommended by Shawn Levy
From Shawn's list on Hollywood glamour and sleaze.
We call them 'movies' as a nickname for 'moving pictures,' and the immense importance of the 'pictures' part of that phrase is underscored by this lavish and gorgeous book celebrating the work of Hollywood's classic glamour photographers. In brief lives and portfolios of the likes of George Hurrell, Peter Stackpole, Phil Stern, Sid Avery, and Ruth Orkin, we see hundreds of photos of such icons as Marilyn Monroe, John Wayne, James Dean, Judy Garland, Marlon Brando, and Shirley MacLaine on the set and off, posed for sumptuous portraits or grabbing coffee and a smoke between takes, in iconic images and remarkable candids. David Fahey and Linda Rich, important photographers themselves, are ideal guides to this gallery, pointing out aspects of the photographers' technique and craft without losing sight of the remarkable subjects of these memorable shots.

---