A Natural History of Dragons
By Marie Brennan,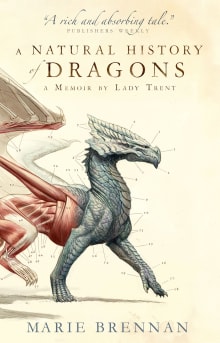 Recommended by McKenna Miller
From McKenna's list on with weird writing styles.
Due to my short attention span, I was hesitant to read this book at first, due to the words "
History
" and "
Memoir
" in the title; however, "
Dragons
" sold me, and I'm very glad it did.
This book reads like a classic Victorian travel narrative, following an intelligent and likable protagonist in her quest to learn more about the natural life around her—namely, dragons. The way this genre-bending novel treats dragons, showing them in scientific diagrams and field drawings, makes for an interesting semi-fantasy world that's exciting to step into and so much fun to explore.
---