Bourbon is My Comfort Food
By Heather Wibbels,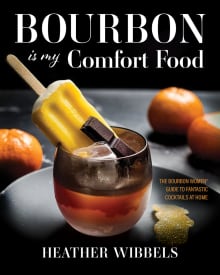 Recommended by Susan Reigler
From Susan's list on cocktail books from a bourbon/whiskey expert.
When I want answers to my cocktail questions, I turn to Heather Wibbels, aka The Cocktail Contessa. What exactly is a "dash," the least precise of ingredient measurements? Wibbels has worked out that eight drops equal a dash. No more over-bittered Manhattans! Her passion for cocktail making started when she joined the Bourbon Women Association, a group promoting the culture and enjoyment of American whiskey. After winning BW's Not-Your-Pink-Drink cocktail contest three years in a row and being made the contest's head judge, she was obviously the perfect person to write this cocktail manual and compilation of hers and other Bourbon Women's recipes to celebrate the group's 10th anniversary. All the classics are here as well as creative variations such as The Banana Bread Old Fashioned and Black Licorice Manhattan. 
---