Bedtime Daddy!
By Sharon Giltrow, Katrin Dreiling (illustrator),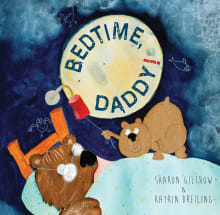 Recommended by Janet Sumner Johnson
From Janet's list on children and their fathers.
Bedtime, Daddy! is a role reversal book where baby bear puts daddy bear to bed. This book had me giggling the whole way through because I was there for it all. Daddy needing to use the bathroom one last time. Needing a drink of water. Asking ALL the silly questions. Kids and parents alike can relate. But what shines through is the love between daddy and kid. Just adorable all around!

---