21st Century Atlas of the Moon
By Charles A. Wood, Maurice J. S. Collins,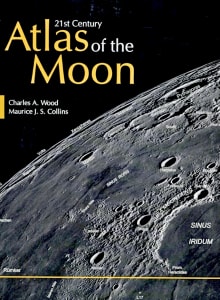 Recommended by John A. Read
From John's list on stargazing.
Stargazers find out pretty quickly that the Moon can be a nuisance. After first quarter, the Moon illuminates the entire sky, and washing out all but the brightest stars and deep-sky objects like galaxies and nebulae. Seasoned astronomers soon learn that if the Moon is up, it's what you should be observing! The challenge is to appreciate what you're seeing.
When I was doing research for my book, 50 things to see on the Moon, I observed the Moon every chance I got, making notes about what I saw. But early on, I had no idea what I was looking at! This lunar atlas helped me appreciate the Moon's topography, geography, geology, and so much more.

---