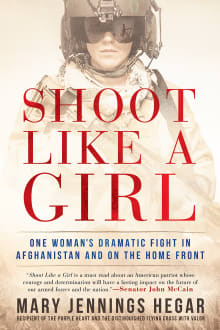 Shoot Like a Girl: One Woman's Dramatic Fight in Afghanistan and on the Home Front
By Mary Jennings Hegar
Why this book?
In 2012, former Air National Guard pilot and Purple Heart recipient Mary Jennings Hegar joined forces with the ACLU to challenge the ban that kept American women out of ground combat units. In
Shoot Like A Girl
, Hegar tells the story of the career that led her to that point.
Hegar's love for flying, her commitment to her job, and her bonds with teammates are vividly portrayed. The incident for which she received the Purple Heart–her helicopter shot down in Afghanistan with wounded men aboard—is gripping. But the heart of the book is the systemic sexism Hegar faced throughout…
From the list:
The best books about women in war
When you buy a book we may earn a small commission.