Footsteps: Adventures of a Romantic Biographer
By Richard Holmes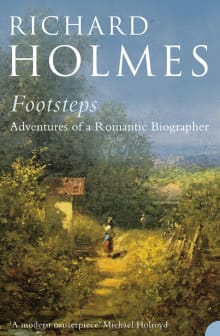 Why this book?
I first read this many years ago and it has stayed with me. Every so often, I return to it in order to immerse myself in its wonderful prose and insights. It combines travelogue with biography, detective work with a probing inner exploration and is both an account of a physical journey and a remap of the writer's imagination. He begins with his homage to Robert Louis Stevenson's Travels with a Donkey and describes his own trek over the Cevennes. He starts out with the idea that he will be a poet and finishes his walk having been led "far away into the undiscovered land of other's men and women's lives. It led towards biography."
It is the turning point of his life and for the remainder of the book – as he hunts down his subjects which include Mary Wollstonecraft, Shelley, Gerard de Nerval, and Gautier – he goes on to explore the nature of the relationship between the biographer and the quarry. The book has so enraptured me that I found myself walking in the company of friends over the Cevennes in Stevenson's and Holmes's footsteps. It was one of the best journeys of my own life. 
---
When you buy a book we may earn a small commission.