The Confessions of Jean-Jacques Rousseau
By Jean-Jacques Rousseau, J. Cohen (translator),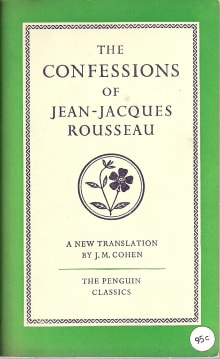 Why this book?
The granddaddy of literary autobiography and biography, Jean-Jacques Rousseau's Confessions was written in 1769 but published posthumously in 1782. Rousseau, whose pioneering Romantic political philosophy was by then already influential, was setting out to do something equally new when he decided to study human nature, taking as his experimental model the human he knew best – himself. The rollicking result, sometimes self-flagellating, occasionally exhibitionist, deviates from its own model, St Augustine's fourth-century religious-philosophical Confessions, in being chock-full of what nowadays we call emotional intelligence.

---