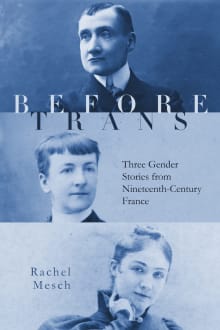 Before Trans: Three Gender Stories from Nineteenth-Century France
By Rachel Mesch
Why this book?
Before Trans is a triple biography of three very remarkable French women writers, all of whom preferred men's clothing and behaved in unladylike ways. The three are Jane Dieulafoy (1850 - 1916), explorer and archeologist; the novelist Rachilde (Marguerite Eymery,1860-1953); and the erotic writer Marc de Montifaud (Marie-Amélie Charteroule de Montifaud,1845-1912). The distinctive feature of this provocative book is the author's effort to understand these women who chose to defy the boundaries of femininity but lived in a world that was "before trans" – before what we understand today as transgender, where one's sex and one's gender self-understanding do not…
From the list:
The best biographies of remarkable French women
When you buy a book we may earn a small commission.