The Daring Life and Dangerous Times of Eve Adams
By Jonathan Ned Katz,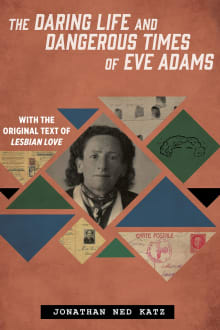 Why this book?
Katz has done yeoman's work in reconstructing the little-known story of Chawa Zloczewer, an immigrant who came to America in 1912, reinvented herself as Eve Adams, and lived the bohemian life of an anarchist and a lesbian. In the years after World War I, Adams was the proprietor of lesbian tearooms and literary salons in Chicago and Greenwich Village. Her radical politics, lesbian life, and publication in 1925 of a book she titled Lesbian Love led to her unrelenting persecution by the young J. Edgar Hoover (then head of the forerunner to the FBI). She was deported in 1927 and died in Auschwitz in 1943. A fascinating piece of lesbian history.   
---