We Are Here
By Ellen Cassedy,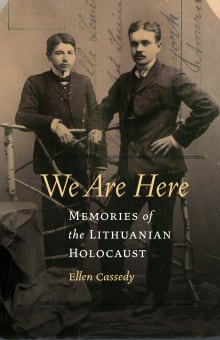 Recommended by Ettie Zilber
From Ettie's list on the Holocaust in Eastern Europe.
The author and I have somewhat similar backgrounds, with ancestry back in Lithuania. We both made the commitment to travel to Lithuania, but for different reasons. Her quest to improve her knowledge and fluency of the Yiddish language, (my native language) brought her to Vilnius, Lithuania to study with a master teacher.  While she was there, she was determined to learn as much as she could about the long history of the Jews of Lithuania, the fate of her ancestors, and why (and how) almost 96% of the Lithuanian Jewish population was murdered- the highest percentage of any European country. Through research, interviews, songs, and Yiddish expressions, the author weaves together a nostalgic, literary, and academic odyssey into the past- and discovers the answer to the percentage question – the Nazis had willing collaborators.
I am passionate about the book because both my parents were survivors of the Lithuanian version…
---