The Nazi's Granddaughter: How I Discovered My Grandfather Was a War Criminal
By Silvia Foti,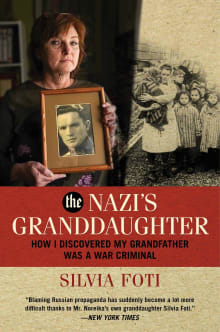 Why this book?
While the author and I came from different sides of the same fence, I found myself empathizing with her deathbed promise, her fears, her worries, her self-doubt, and her commitment to finding, and eventually exposing, the truth. Setting out to write what should have been a fairly 'easy' biographical tribute to her late grandfather – hailed as a Lithuanian hero- she discovered - and uncovered - details and documents which shattered her world and confirmed "the gossip." She began to doubt the stories she was told as a child and the people who told them- both in her Lithuanian-American neighborhood and back in the old country. What a page-turner…what agony and pain…until she finally made her courageous decision. Bravo, Silvia.
I am passionate about the book because both my parents were survivors of the Lithuanian version of the Holocaust. There were very few survivors from Lithuania, and Foti's book helps me understand why. I started learning about the Holocaust at my mother's breast, after my birth in a Displaced Person's camp in Germany, and I have been researching it ever since.
---