This Is Not a Novel
By David Markson,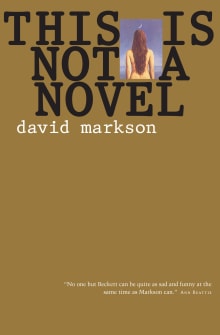 Recommended by Laurie Sheck
From Laurie's list on genre-defying.
Markson had early success writing traditional novels (one was even made into a movie starring Frank Sinatra) but his real body of work came after when he started writing novels that were criticized for not being novels. The first of these, This is Not a Novel, is narrated by a writer who asks whether it is possible to have a novel with no plot, no main character etc. In a form that visually resembles about 150 pages of tweets (but written before Twitter existed), Markson takes a spirited, enjoyable romp through the history of art, literature, and philosophy, with a sharp eye focused on how various creative people lived and loved, but especially on how they died. 
---