The File
By Timothy Garton Ash,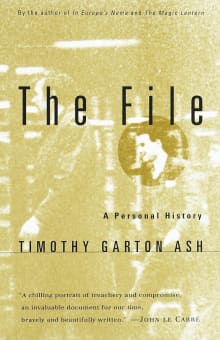 Recommended by Sarah E. Igo
From Sarah's list on identity documents in the modern world.
Although it reads like a spy novel, this is the real-life account of a noted English journalist's encounter with his own Stasi surveillance file. The file in question was compiled in the early 1980s by the East German secret police on Garton Ash (code name "Romeo"), then a young man living in Berlin and writing about Central European communism. Garton Ash opened his file fifteen years later, after the former German Democratic Republic made Stasi records accessible. Tracking those who tailed him, the book explores the uneasy sensation of reading one's past life through the photographs, informant reports, surveillance notes, and speculations of those tasked with observing a target of suspicion. It's a compelling and often chilling chronicle of the costs both of watching and being watched.

---