Deep Undercover: My Secret Life and Tangled Allegiances as a KGB Spy in America
By Jack Barsky, Cindy Coloma,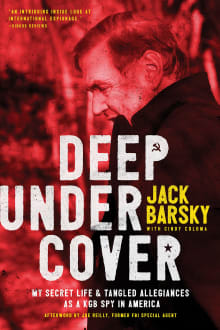 Why this book?
Before stumbling across this memoir, while doing the research for my next novel, I had no idea that the Cold War saw German Communist spies living in the USA - but come to think of it, why shouldn't they have existed on the other side of the Iron Curtain? Barsky's story blew me away: he was sent by the KGB to the States as a sleeper agent. What "broke" him was not his challenging profession, but the love for his child — he eventually had two families, one in East Germany with a wife who knew about his true identity - and another one in the States, with a wife who didn't.
He had a son with the German and a daughter with his Latin-American wife in the US. He wasn't there when his son was born, but witnessed the birth of his daughter. When the Cold War ended and the KGB called him back, he decided to go underground and stay with his American family - the thought of leaving his daughter would have broken his heart. I also found it deeply interesting how he found his way to God - all the way from Communism, through Capitalism, this not being 'the' answer either. Factually told, but deeply moving.
---