Rescue at Lake Wild
By Terry Lynn Johnson,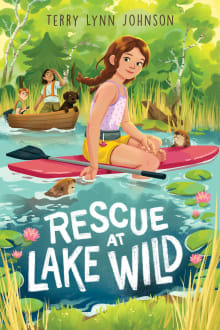 Recommended by Diana Renn
From Diana's list on young environmentalists.
When I was a kid, I wanted to rescue animals. I remember taking crabs home from the beach in milk cartons. Sadly, they didn't make it – nor did they need rescuing in the first place. 12-year-old Madi Lewis is a savvier rescuer, an "animal whisperer" trained by her late grandmother, an animal rehabber, to keep careful records and do basic caretaking. But Madi's parents have made it clear: no more foster animals. When Madi and her friends find two orphaned beaver kits in a dam, she has to keep it a secret – hard to do as they uncover a local conspiracy to eliminate beavers at Lake Wild. This fast-paced eco-mystery teaches a lot about conservation, ethics, and, of course, beavers! I love Madi as a young Jane Goodall type, too. 
---