Just One Damned Thing After Another: The Chronicles of St. Mary's Book One
By Jodi Taylor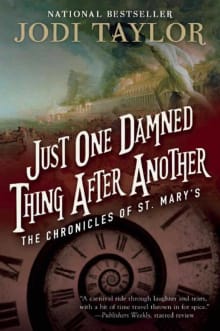 Why this book?
It's hilarious. The characters, the situations, and most of all the writing. Taylor's choice of words is perfect. Her comedic timing is even better. Best of all, there are now 13 books in the series.
About ten pages into a library copy (the author was recommended to me by a fan of my own work), I knew I had to buy my own copy. Not only did I want to savour the book, reading only one chapter a day (which took a lot of willpower), but I wanted to underline every single excellent bit. And there are so many … I'm opening the book at random … "How did you find the East Gate?" "I was looking for the South Gate." See?
---
When you buy a book we may earn a small commission.