Burnout: The Secret to Unlocking the Stress Cycle
By Emily Nagoski, Amelia Nagoski,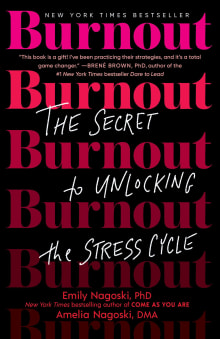 Why this book?
I heard about Burnout by sisters Emily Nagoski, PhD, and Amelia Nagoski, DMA, on a recent Brené Brown Unlocking Us podcast episode, and it was a happy surprise to learn that we share a literary agent! I listened to the audiobook and found I got something out of every single chapter. The book is aiming high: it wants to end the cycle of feeling overwhelmed and exhausted. I've been asked for book recs to help with shaky feelings from my fellow beautiful voyagers, and I often mention Burnout since it delves into how emotions can affect our bodies without us even knowing it's happening. The book explores some of the core reasons women may be facing the kinds of symptoms described above, and works to systematically break them down.
---