There's No Place Like Space: All about Our Solar System
By Tish Rabe, Aristides Ruiz (illustrator),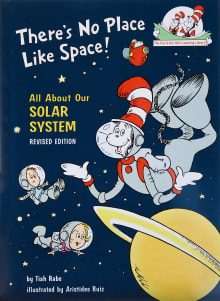 Why this book?
This is a great book to start your little ones on their very first space adventure. Tish Rabe takes the Dr. Seuss's Cat in the Hat character on a journey to teach children about the planets, the moon, and the sun. But it doesn't stop there! The book also touches on famous constellations, the moon landing, and lots of cool and wacky facts about the solar system. Neptune's bright blue color and Saturn's incredible lightness are just a few of the fun snippets of space knowledge scattered throughout the book. Wonderful illustrations combined with whimsical prose will keep young readers turning the pages. 
"But there's a lot to discover, and it might be you who looks up in the sky and finds something that's new!"
---