Mission to Mars
By Buzz Aldrin, Leonard David,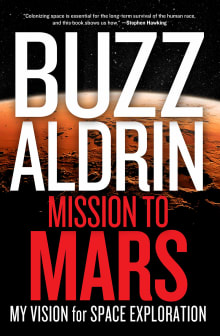 Recommended by Sylvia Engdahl
From Sylvia's list on colonizing Mars of interest to young adults.
Buzz Aldrin, best known for having been one of the first two astronauts to walk on the moon, has been active throughout the time since then in promoting an expanded space program. In this book he goes into detail—but not too much detail for non-technical readers—about how space activity can help to preserve Earth, in addition to describing various proposals for returning to the moon and reaching Mars, He believes explorers should go there to stay permanently and build a base rather than return to Earth between trips. The book, published in 2013, was overoptimistic in suggesting that as early as 2020 selected astronauts could be asked to commit to spending the rest of their lives on Mars, but I'm sure that when opportunity arises there will be volunteers.
---