Moon's First Friends: One Giant Leap for Friendship
By Susanna Leonard Hill, Elisa Paganelli (illustrator),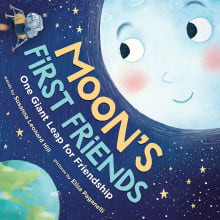 Why this book?
I absolutely adore this book for a few key reasons. I fell in love with the premise of a lonely Moon on the lookout for new friends--who hasn't felt that way before? The author does an incredible job of weaving in facts about the first modes of transportation while keeping the book fun and relatable to children. The illustrations are beautiful and by the end of the book you'll definitely be rooting for Moon to get her first visitors.

---