The Hidden Girl and Other Stories
By Ken Liu,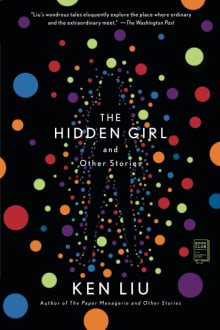 Why this book?
There's something beautiful, and often something sad, waiting for us in Ken Liu's The Hidden Girl. An incredible tapestry of narratives. While there's no weak point to be found within the eighteen selections made available to readers inside its pages, what keeps bringing me back to it over and over are the handful of stories that, when put together, create a timeline of the end of humanity, as human beings slowly transcend into galaxy-spanning digital consciousness. And yet throughout these narratives, which a lesser writer might have made vast and cold, there is a warmth and love on display in every word.
Why do I cry when reading the story Altogether Elsewhere, Vast Herds of Reindeer? In this book, through narratives spanning millennia, Liu says something about the relationships between parents and children that has forever changed the way I feel about such relations in the world.
---