Being Better: Stoicism for a World Worth Living In
By Kai Whiting, Leonidas Konstantakos,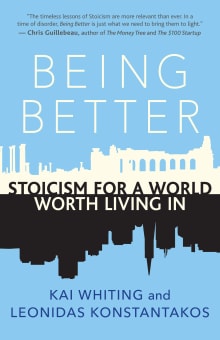 Why this book?
Being Better is the best expression of the heart of Stoic philosophy that I have found in print. This is not a how-to book in the style of so many beginner's manuals (including my own), but instead it is a meditation on the core principles of Stoicism. The authors challenge us to apply those principles in our own lives, so that we can join together in making the world a better place. Each chapter unveils a facet of the philosophy using the experiences of real people, both ancient and modern, as examples of how to apply Stoic thinking to hard problems such as the climate crisis, social justice issues, and economic excess. Being Better moves past simple life hacks to show us how Stoicism can function as a full philosophy of life.

---