The Upswing: How America Came Together a Century Ago and How We Can Do It
By Robert D. Putnam,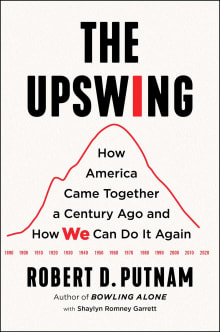 Why this book?
The Upswing is the culminating triumph of Robert Putnam's work on 'social capital', - the glue that binds people into a community. Although his book charts the trajectory of an American tragedy – the erosion of community in America over the past 60 years, it comes with an uplifting message. He shows that America has climbed out of a society rabid in self-obsession before. That upswing began around 1900 and was build bottom-up, as people came together, community-by-community. What happened then – an 'inflection point' in which new ideas and brute shocks combined to change the downward trajectory, is underway once again. Putnam, a top professor at Harvard, is the world's most distinguished political sociologist, but don't be alarmed: Upswing is a joy to read.

---