Mission Economy: A Moonshot Guide to Changing Capitalism
By Mariana Mazzucato,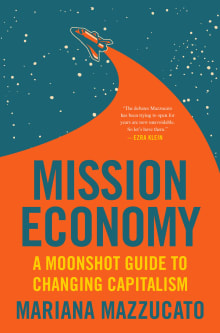 Why this book?
Mazzucato's timely book offers a hopeful look into the possibilities for companies, governments, and civil society to work together to solve the world's grand challenges. Inspired by the original moonshot program that mobilized the public and private sectors on a massive scale to take risks and experiment with innovative solutions to a previously unsolved problem, she pushes all of us to think boldly about the possibilities for transformative change. To do so, we'll need to bust myths that impede progress such as the idea that businesses are the only entities that create value and governments are only there to de-risk and address market failures.
The increasingly popular ideas that governments need to run like businesses and save taxpayer money by outsourcing actually strip public policymakers of the tools they need to spur innovation. With examples of a Green New Deal, accessible health care, and narrowing the digital divide, Mission Economy provides a moonshot guide to change that involves government-business partnerships with a purpose.
---