Sharpe's Tiger
By Bernard Cornwell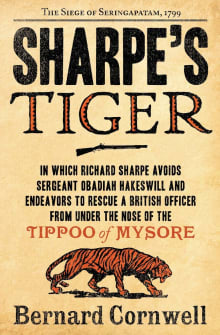 Why this book?
Richard Sharpe is one of the great characters of historical fiction, paralleling the true career of Arthur Wellesley (later the Duke of Wellington) from India all the way to Waterloo. The first book in the series introduces us to Private Sharpe fighting in India in 1799. Sharpe is relieved from the tyranny of Sergeant Hakeswill and sent on a secret mission into the fortress of the Tipoo Sultan to rescue an intelligence officer in prison.
With Lieutenant Lawford he pretends to be a British deserter and joins the Sultan's forces in the heavily fortified Seringapatam. A gripping story with wonderful characters that kicks off an exceptional series. Cornwell is the doyen of historical fiction storytellers and makes you feel like you're really there.
---
When you buy a book we may earn a small commission.