Dissolution: A Matthew Shardlake Tudor Mystery
By C.J. Sansom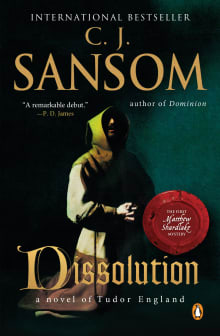 Why this book?
The hero of Dissolution is Matthew Shardlake, a hunch-backed lawyer commissioned by Thomas Cromwell, Henry XIII's enforcer, to investigate a murder in an opulent monastery, meanwhile pressuring its monks to "dissolve" their institution.
Dissolution is set during Henry XIII's ransacking of the Roman church's English holdings. Shardlake wrestles with his conscience. A true-believer at the start, he uncovers unsettling truths. Shardlake's equivocalness is increased by such sights as beggars barefooted in the snow, the immolation of great artworks. A detective mystery with lagniappe, where its setting is not just a picturesque backdrop, addressing the issues without platitudes or easy answers.
---
When you buy a book we may earn a small commission.