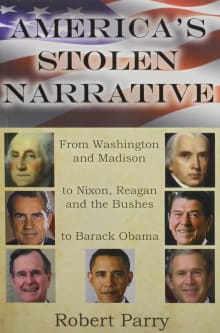 America's Stolen Narrative: From Washington and Madison to Nixon, Reagan and the Bushes to Obama
By Robert Parry
Why this book?
This is an encyclopedia for anybody who wants to doublecheck the official version of events in US history starting from George Washington all the way through the presidencies of Nixon, the two Bushes, and Barak Obama. Investigative journalist Robert Parry worked for Associated Press and Newsweek on the Iran-Contra affair and spent years on the October Surprise, that cost President Jimmy Carter a second term. If you want to understand the role of the arms industry on US foreign policy since World War II, this is a great start. Or as President Eisenhower put it in his farewell address: "……
From the list:
The best books on real conspiracies
When you buy a book we may earn a small commission.