All the President's Men
By Carl Bernstein, Bob Woodward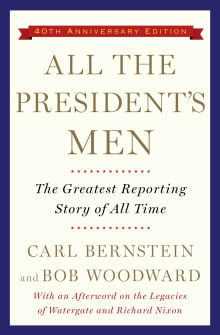 Why this book?
I know, I know...non-fiction. But as far as I'm concerned, definitely still a thriller, and to this day, the quintessential political scandal. There are so many iconic facets to the story: the anonymous whistleblower Deep Throat's invocation to follow the money; Woodward and Bernstein's dogged refusal to drop the story, even when all appeared to be lost; the slow burn of revelation upon revelation.
This wasn't about car chases and guns. It was about paper trails and getting sources on the record. 
The bravery of that never left me, and was always in my mind while writing my book.

---
When you buy a book we may earn a small commission.