House of Cards
By Michael Dobbs,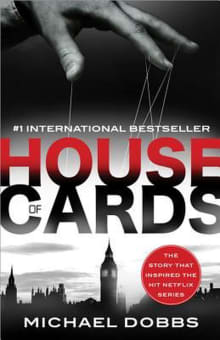 Book description
REVISED AND UPDATED WITH BRAND NEW MATERIAL
The acclaimed political thriller that first introduced the unforgettable Francis Urquhart MP and launched Michael Dobbs' No 1 bestselling career - now updated with brand new material.
Michael Dobbs' entertaining tale of skulduggery and intrigue within the Palace of Westminster has been a…
Why read it?
3 authors picked House of Cards as one of their favorite books. Why do they recommend it?
DC Alden
The book that triggered my deeper exploration into the world of political corruption, Dobb's classic still stands shoulder to shoulder with HBO's powerhouse TV reimagining of the source material, and ticks all the political thriller boxes—corruption, blackmail, and murderous intent at the highest levels of government. The masterfully crafted Francis Urquhart is one of the most intriguing fictional characters I've met, determined, manipulative, and utterly ruthless, and the twisty plot moves along at a cracking pace. Do people like Urquhart really exist? Undoubtedly, although the real versions are infinitely crueler and more corrupt. If you loved the TV show, as…
Andrew Raymond
We all know the Netflix adaptation that brought Dobbs' story to Washington, D.C. But the original novel set in Westminster is the real deal. Where its cynicism once looked unrealistically dark, it now couldn't be more relevant in a world of power-hungry politicos.
It pulled back the curtain on a world that a few of us suspected but were too afraid to believe could be real. Do we really still think that a politician has never been behind a murder or two? Dobbs will make you a believer.
What could have been overblown and fanciful ended up being chilling and…
Louise Burfitt-Dons
I enjoyed this book and loved the movie even more. It convinced me that people were fascinated by the inside story of politics. By his own account, most of the content on this book was drawn from what he saw working as an advisor to Margaret Thatcher when she was Leader of the Opposition. He claimed in an interview writing the book was a holiday distraction after he left office. But the title of the book is now one of the most used terms in conversation to sum up manipulative behaviour. Very "House of Cards!"