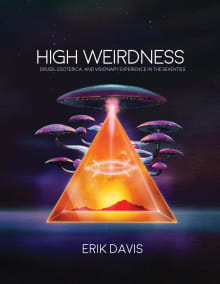 High Weirdness: Drugs, Esoterica, and Visionary Experience in the Seventies
By Erik Davis
Why this book?
Davis' style is analytical swank and this excavation of the 1970s is his odyssean opus. High Weirdness is a fascinating trip of a book in which the psychedelic epiphanies and freak experiences of Terence McKenna, Robert Anton Wilson, and Philip K. Dick are each explored and compared for their extraordinary contributions to "consciousness culture," and for their entrees on the radical form of realism Davis calls "weird naturalism." The book serves as a remarkable introduction to each of the trio upon whom Davis has made extensive study, from the epicenter of the weird that was the 1971 Experiment at La…
From the list:
The best books on psychedelics and culture
When you buy a book we may earn a small commission.