True Hallucinations
By Terence McKenna,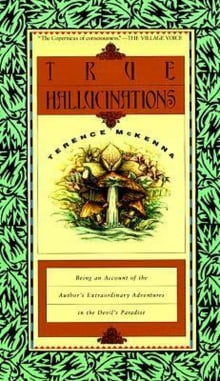 Book description
Describes the search for a mushroom that could reveal the secrets of consciousness.
Shepherd is reader supported. We may earn an affiliate commission when you buy through links on our website. (learn more)
Why read it?
3 authors picked True Hallucinations as one of their favorite books. Why do they recommend it?
Guido Mina di Sospiro
More on the wacky side, and far more entertaining, is Terence McKenna's True Hallucinations: Being an Account of the Author's Extraordinary Adventures in the Devil's Paradise. For those who will never try "heroic doses" of psilocybin mushrooms deep in the Colombian jungle, this is a wild, vicarious ride, an amalgam of science, literature, myth, and exotica from an adventurer whose genuine inquisitiveness in things psychedelic goes hand in hand with mythomania—what an exuberant explosion of literary and philosophical high kitsch! If not persuaded, there follows the endorsement from The New York Times: "The polysyllabic sentences he lards…
Graham St John
The rollicking work of creative non-fiction that is the closest we have to a memoir, penned by the man Leary later dubbed "the Timothy Leary of the nineties." The Magister Ludi of language, patron saint of psychedelics, holy fool, triple scorpio, I Ching decoder, timewave surfer, butterfly hunter, sheesh smuggler, mushroom cultivator, DMT hyperspace traveler, "machine elf" consortee. All reside in the repertoire of Terence Kemp McKenna, and all make their appearance in this classic freak odyssey. Featuring McKenna's travails in Nepal, Tokyo, Sulawesi, among other locations, the chief subject is the sojourn to the Columbian Amazonas in Feb-Mar 1971,…
Andy Letcher
McKenna was a blarney-kissed polymath, bard, and raconteur who dazzled audiences with his inspired psychedelic rants during the 80s and 90s. I was lucky enough to meet him once, and he blew me away with his theories about the fractal nature of time. This, his best book, tells the fantastic tale of an expedition with his brother to the Amazon in the 1970s, in search of a fabled indigenous psychedelic compound. They never found it but discovered instead a bounteous supply of magic mushrooms, a find that tipped them right down the rabbit hole, giving birth to some of McKenna's…