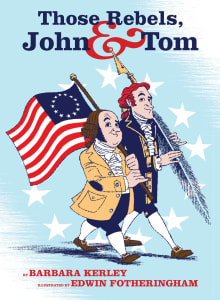 Those Rebels, John & Tom
By Barbara Kerley, Edwin Fotheringham (illustrator),
Why this book?
Here's another take on America's relationship with King George III. The story shows the differences between John Adams and Thomas Jefferson but despite their differences, they have a love of country and a hate for King George. They unite their strengths - John's power of persuasion and Tom's mighty pen - to formulate the Declaration of Independence. The endnotes are just as fascinating, talking about how their relationship continued - and almost ended. They both died on the same day, on July 4th.
From the list: