Leave It to Abigail!: The Revolutionary Life of Abigail Adams
By Barb Rosenstock, Elizabeth Baddeley (illustrator),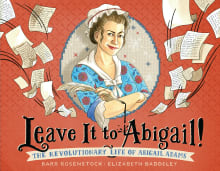 Why this book?
I admire women who take it upon themselves to survive through resourcefulness and despite societal norms. Abigail was a girl whose spirit was too big to contain within the rules of colonial America. And because she had gumption and curiosity, she helped advance women by influencing her husband's political views. The artist used needlework to partially illustrate the book which gives the reader a feel for the times.
---