The Good Gut
By Justin Sonnenburg, Erica Sonnenburg,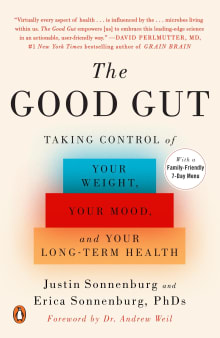 Recommended by Lindsay S. Nixon
From Lindsay's list on vegan health.
Best, most succinct, and comprehensive book I've read on the topic of gut health by far. It's also written in a friendly, conversational tone (not overly dry or academic). 
Things I like: The authors provide a specific daily fiber recommendation (29-35g minimum) for gut health; they discuss how antibiotics and antibiotic soap/cleaner affects microbes, the impacts of glycemic load and industrial flour, and most importantly: they provide evidence so the reader can draw their own conclusions as to what's best for them diet-wise instead of using fear-mongering.
Note: This book is not "pure vegan" (the authors suggest dairy in some situations).
---