Learned Optimism
By Martin E. P. Seligman,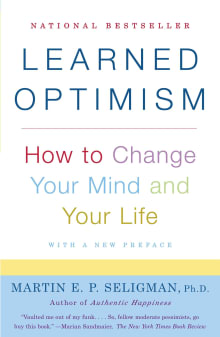 Book description
NATIONAL BESTSELLER • The father of positive psychology draws on more than twenty years of clinical research to show you how to overcome depression, boost your immune system, and make yourself happier.

"Vaulted me out of my funk.... So, fellow moderate pessimists, go buy this book." —The New York Times…
Why read it?
3 authors picked Learned Optimism as one of their favorite books. Why do they recommend it?
Randy Ross
Known as the father of the new science of Positive Psychology, Dr. Martin Seligman shows how optimism enhances quality of life. He refutes the idea that some people are simply born more optimistic and shares how anyone can adopt a more positive outlook on life. This book is filled with simple techniques to break depression, boost your immune system and make you happier.
Learned Optimism offers simple, straightforward solutions to help anyone embrace a healthier mindset as they face and embrace challenging times. Applying the content of this book, anyone can learn to view life through a different lens, changing…
Marta Zaraska
Optimism, studies show, is a great longevity booster: it can add anywhere between four to ten years of life. I'm a bit of a neurotic worry-wart and I used to believe I was doomed to stay that way (goodbye extra ten years of life!). Yet Seligman's well-researched book showed me there was hope: most people can learn how to become more optimistic—with all its health benefits. Although I'm still not a Pollyanna, this book certainly helped me become a more "glass-half-full" kind of person. 
Greg Everett
Seligman pioneered work in "learned helplessness", which provides invaluable insight into we different people respond so differently to similar challenges or experiences. With his interpretations of this work and more, Seligman creates a guide for changing the way we interpret our circumstances, learning how to create a sense of control, and consequently how to not only enjoy our lives more but to determine their course effectively.