Secrets from a Stargazer's Notebook
By Debbi Kempton Smith,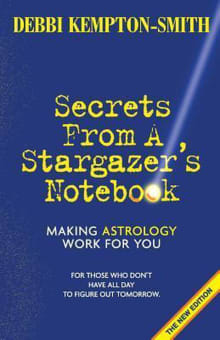 Recommended by Jackie Slevin
From Jackie's list on taking astrology beyond the sun sign.
In a refreshing break from standard fare, Kempton-Smith uses humor with deep insight to describe the components of a horoscope in a writing style that is more amenable to the contemporary reader who is seeking the fundamentals of horoscope analysis. Descriptions of planets, signs, and aspects are instructive and instantly applicable in her many clear examples. The unique chapter on "Astrology for Daily Living" illustrates how astrology is used in mundane events and other areas that is not found in most texts. Her techniques for determining the best days for those born under certain signs to undertake endeavors is highly recommended, and her overall mass appeal is up-beat and entertaining. 
---