Change: What Really Leads to Lasting Personal Transformation
By Jeffrey A Kottler,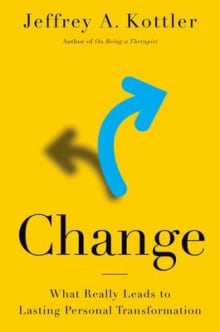 Why this book?
Week in, week out, therapists meet people who are trying to change. Kottler is a highly experienced psychotherapist and in this book you will discover all that he has learned about the process of personal transformation through his career – including the obstacles to change (such as procrastination and lack of self-monitoring) and also the factors that make it easier, such as through fostering hope. I particularly enjoyed the passages on what's known as post-traumatic growth - that is, our ability to turn frightening or stressful experiences into catalysts for positive personal development.

---