I Came as a Shadow
By John Thompson, Jesse Washington,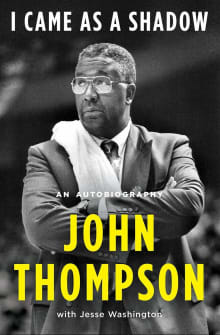 Recommended by Jonathan Weiler
From Jonathan's list on basketball books with larger societal issues.
John Thompson's inspiring and honest account of his life as told to Jesse Washington. The legendary coach grew up in poverty in segregated Washington, DC in the 1950s, and parlayed basketball first into a ticket out of DC to Providence College on a basketball scholarship and then back to DC, as a guidance counselor, then a fill-in high school basketball coach who became a city legend, and then as Georgetown's first Black head basketball coach, when he was hired in 1972. 
Thompson built the Hoyas into a formidable squad by the late 1970s and then, with the arrival of Patrick Ewing on campus in 1981, a dynasty. The Hoyas made the NCAA championship game three times in Ewing's four years, winning it all in 1984. Thompson also emerged as an outspoken and fierce defender of his players and black athletes more generally, fighting the NCAA's efforts to impose SAT minimums…
---