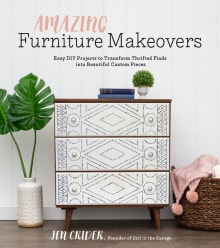 Amazing Furniture Makeovers: Easy DIY Projects to Transform Thrifted Finds Into Beautiful Custom Pieces
By Jen Crider
Why this book?
If you've ever looked at an old piece of furniture and imagined giving it new life, you absolutely need this book! Jen shows step by step how easy it really is to give furniture a whole new look with just a few basic supplies. She shares gorgeous examples of her own furniture transformations, as well as practical tips for how to create your own unique finished pieces. You'll soon find yourself so inspired that you're looking for furniture to makeover in every thrift store and yard sale!
From the list:
The best books for artists and creatives
When you buy a book we may earn a small commission.