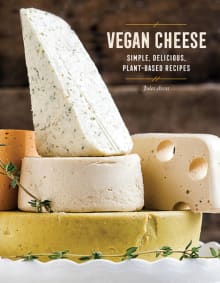 Vegan Cheese: Simple, Delicious Plant-Based Recipes
By Jules Aron
Why this book?
Whether for reasons of ethics or health, more and more people are looking for dairy cheese substitutes. Commercial versions are often poor imitations. This book is like winning cheese lotto! There are 60 plant-based cheeses (no easy feat) made using vegetables, tofu, seeds and nuts, ranging from firm to sharp, creamy to mild. These recipes draw on only natural ingredients and techniques. You can create the perfect cheese platter with spreads, sauces, sprinkles, block and wheel cheeses, soft and fresh cheeses, and accompaniments. Easy to follow. Beautiful photography.

From the list:
The best books about conscious plant-based cookery
When you buy a book we may earn a small commission.