There's No Ham in Hamburgers: Facts and Folklore about Our Favorite Foods
By Kim Zachman, Peter Donnelly (illustrator),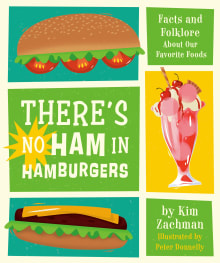 Why this book?
I love food and I love history, which is why I adore the way this offbeat book explains the origin stories of some of our favorite foods. Yes, some of the tales are gross. Did you know Genghis Khan's soldiers put raw meat scraps between their horse and saddle? The friction tenderized the meat and turned it into an early version of ground meat patties – seasoned, of course, with horse sweat! Readers who love knowing the facts behind their food will enjoy learning about the beginnings of peanut butter, french fries, hot dogs, and much more.  
---