Pomp and Sustenance: Twenty-Five Centuries of Sicilian Food
By Mary Taylor Simeti,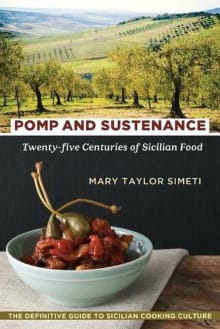 Why this book?
This book immediately swept me up in its glorious evocation of Sicily: the island's ancient history, the ways of its people, and above all the flavors of the sun-kissed land. In gorgeous prose, American-born Mary Taylor Simeti combines the illuminating insights of an outside observer with a passion for her adopted homeland. The recipes range from the cucina povera that sustained most of Sicily's inhabitants over the centuries to the ornate court cuisine that developed in the 16th century. We also journey to Sicily's convents, where the nuns became famous for their wondrous confections with fanciful names like "Virgins' Breasts" and "Chancellor's Buttocks."

---