War, Politics and Finance in Late Medieval English Towns
By Christian D. Liddy,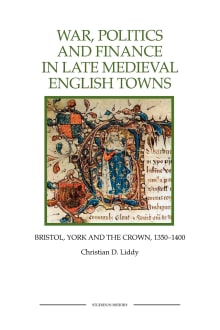 Recommended by Candace Robb
From Candace's list on medieval York.
Why would this 50 year period be so interesting in these two cities? In these years Bristol and York were second only to London in influence and growth within the realm, and as the rising merchant class accrued wealth they used it to make agreements with the crown—to their advantage, of course. With King Edward III it was all about his war with France; with his grandson and successor King Richard II it was about gaining charters that made them more independent of royal interference as well as negotiating their way between the political factions within the nobility.
Richard's reign was a dangerous time, especially at the end when York merchants chose to loan money to Henry Bolingbroke's uprising against his cousin the king.  The stakes were high and the personalities larger than life.

---