Hands Are Not for Hitting
By Martine Agassi, Marieka Heinlen (illustrator),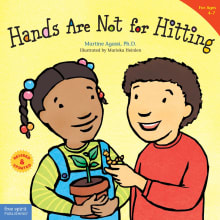 Recommended by Gail Reichlin
From Gail's list on motivate kids to manage their own behaviors and feelings.
This book provides simple words and warm illustrations to reinforce the concepts that violence is never okay and that toddlers and preschoolers can learn to manage their anger without hitting. I appreciate the gentle, yet straightforward way it addressed the unacceptable behavior while offering positive things to do with your hands like hugging, helping, and shaking. The illustrations are colorful, playful, and age-appropriate. Young children adore this book and ask to listen to it again and again. As a bonus, at the end, the author included additional tips for parents and caregivers about how to handle unsafe hitting.
---