Ancient Appetites
By Oisín McGann,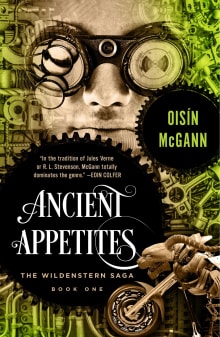 Why this book?
A wildly imaginative tale from the wildly underrated writer, Oisin McGann. A lot of the ideas here stem from his fantastic artwork. (So impressed was I with the read, I Googled his webpage!)
The Wildenstern family is a power-hungry lot, set in a slightly removed, Steampunk/Dystopian idea of a long-ago Ireland. Competitive cousins, Gerald and Nate Wildenstern are wonderful characters, and Nate's sister-in-law, Daisy, is quite the uppity aristocrat (you can't help but like!).
There are wild animal-like machines, a lot of deaths, twisted family values, and mystery to be had within this book. Very much a page-turner. I am rereading again – and the rest of the series as well!
---