In Search of Dracula: The History of Dracula and Vampires
By Radu Florescu, Raymond T. McNally,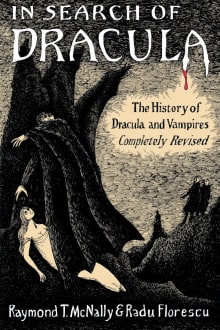 Why this book?
I put this one at the top of my list because it is a serious, scholarly approach to the subject of vampires and dispensed with the need to include Bram Stoker's book among the list of favourites.
After the appearance of Dracula in 1897, the Count took over as the stereotype of the aristocratic vampire. The McNally-Florescu investigation discovered authentic 15th-century manuscripts that confirmed there had been a "human being fully as horrifying as the vampire of fiction… who had been the subject of many horror stories even during his own lifetime; a ruler whose cruelties were committed on such a massive scale that his evil reputation reached beyond the grave…" As a result, the team pieced together a dual history of the real 15th-century Dracula who came from Transylvania and the vampires who existed in the legends of the same region.
---