My Side of the Mountain
By Jean Craighead George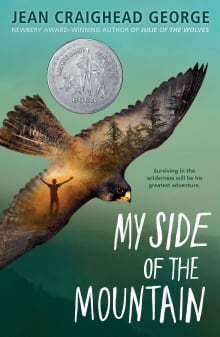 Why this book?
My Side of the Mountain changed my childhood and my life. I was born in the vibrant city of Biloxi, Mississippi and moved to a timber farm in an overgrown ghost town in rural Mississippi when I was eleven. At first, I hated it. I missed my city life and felt lonely living on a gravel road, four miles away from my nearest friends. Then I read My Side of the Mountain. The book takes readers on a journey with Sam Gribley, who runs away to live off the land in New York's Catskill Mountains. Sam's story awakened in me a curiosity about the natural world and set me on a lifelong quest to incorporate nature into daily life.
It inspired me to found Outdoorosity.org years ago as a free source of information and inspiration about nature. My Side of the Mountain is beautifully written and Sam's resourcefulness and innovation inspired me to think about things that I, too, could build in nature. Because of this book, I cultivated a secret violet island in a nearby stream and populated it with moss and a tiny village built from sticks, leaves, barks, and acorns, complete with furniture fit for fairies. The survival skills and recipes so skillfully described in the book are also ones that I still use today when I'm hiking and exploring the woods. 

My Side of the Mountain was published in 1959 and it reflects part of that time period. There is so much more, however, that is timeless and enduring. I reread My Side of the Mountain regularly and it inspired the outdoor adventure elements of Smack Dab. Because of My Side of the Mountain, every time I see a willow branch, I hear Sam Gribley's willow whistle. The sight of a large hemlock invites imaginings about what it would be like to spend a year living inside that tree. Bird calls above remind me of the secret language of birds that I've been studying since I read Jean Craighead George's captivating book. I hope that My Side of the Mountain awakens in you the same curiosity and wonder about the natural world that it did for me. 
---
When you buy a book we may earn a small commission.