The Managed Heart: Commercialization of Human Feeling
By Arlie Russell Hochschild,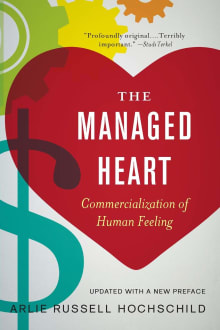 Why this book?
We all do emotional labor, but most of us don't get paid for it. Hell, most of us don't even get noticed for it! The Managed Heart brings this labor out of the shadows, and it's a life-changing book. Sociologist Arlie Hochschild developed the concept of emotional labor, which is the labor we do to manage our own emotions and the emotions of others in the context of our work. 
Emotional labor is crucial, but it's nearly always unacknowledged, unsupported, and treated as something you should already know how to do – for free! This book helps you observe the hidden world of emotional labor and develop your own approach to this vital form of work.
---