Prairie Lotus
By Linda Sue Park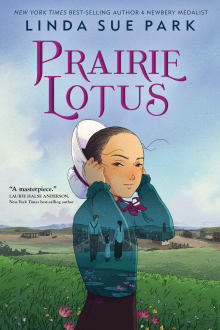 Why this book?
While my parents were born in Korea, they emigrated to America in 1954 and fell in love with western shows Wagon Train, The Big Valley, and Bonanza. As a child, I would watch reruns with them and imagine myself riding on a wagon train or living on a prairie. Imagine that―a Korean girl in the Old West! While fourteen-year-old Hannah Edmunds in Prairie Lotus, is half white (father's side) and half Chinese (mother's side) she is Chinese in the eyes of her LaForge neighbors in the U.S. Dakota Territory where her father sets up shop―a dress shop―in town.
The year is 1880. Hannah is the only Asian child in her class as was I throughout my primary school years in the 1960s and 70s. On the first day of school, Hannah hides her face under a bonnet. I didn't wear a bonnet but when boys made fun of me (with words I dare not repeat here!), I often kept my eyes down. So much of this story is relatable to my own life both past and present. Hannah is half-orphaned (Hannah lost her mother) and so was I (I lost my father when I was a teenager). Hannah and I both navigate two worlds in the hopes of finding a place to call our own. When Hannah isn't doing schoolwork, she works in her father's dress shop, and when I'm not writing, I work at my chocolate shop. 
---
When you buy a book we may earn a small commission.